Most grout that is in your bathroom, shower, toilets, and kitchen are cement based and porous. Most builders and contractors don't bother actually sealing your grout, which means that the grout will actually be absorbing any liquid that gets on it. The types of moisture that it will absorbing will be:
Of these, the body oils are by far the most common caused of discolouration of your grout lines.
There are a few ways that you can help to prevent staining or discolouration of your grout lines. Your first option, recommended by Mike Holmes, is to tint your grout so that it matches the tiles, and thus hides any discolouration. The other option is to seal your grout …
There are two types of grout sealers that you can use:
Surface Barrier Sealant
Penetrating or Impregnator Sealant
Your surface barrier sealant does just what it says, it create a barrier that sits on top of your grout. This type of grout sealers is generally easier to work with than a penetrating barrier, but it is not as effective, and requires regular reapplication.
A penetrating sealant soaks into the pores of the grout to form a barrier against any moisture getting into, and behind the grout. Although it requires more work to apply, and generally costs more than a barrier seal, it is generally considered to be the best option for most uses. This is why we are using a penetrating sealer in our bathrooms.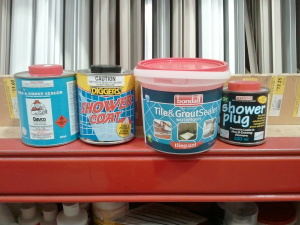 Having a look at the Bunnings web-site shows us five different types of penetrating grout sealer. They are:
DTS Heavy Duty Grout Sealer
Diggers Sealant Showercoat
CPC Shower Plug Sealant
Davco Tile & Grout Sealer
Bondall Tile & Grout Sealer
There are a few different types of grout sealer that you can get, including water based and solvent based sealers. Of those options, the solvent based sealers seem to be your best option. Right away this eliminates two of the five sealers that Bunnings offers …
Of the three products that are left I really can not find any difference between them, other than the price. They vary from:
No matter how much I read, I can not justify the extra cost of the CPC Sealant Shower Plug product. It looks like it's a penetrating solvent /silicone based sealer, just like the other Davco and Diggers products.
With all of that in mind, I recommend the Davco Sanitized Tile & Grout Sealer, and will most likely be using that one to seal the shower stalls in our bathrooms…