If you want to safely and securely lock up your personal access gate to your back yard there are a few things that you need to consider in addition to security.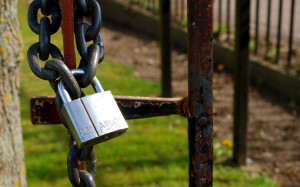 One of the challenges that we have run into  in locking up our gate is making sure that the utility companies still have access to the meters. This includes:
One way to do this is to learn your billing cycle and unlock your gate during the weeks that the meter readers are set to to their reading. The challenge to this is that the meter readers are not always consistent with when they come by, and sometimes you miss them. If the meter reader is unable to do an actual reading then they do an estimate, which isn't always accurate.
Another option is what is advised by SA Power Networks:
Customers often ask us how they can secure their meter box to avoid it being tampered with.

You can choose to install a utility lock on the electricity meter box or relevant access point (such as a gate). The best solution is to install a utility lock. Utility locks may only be purchased from a member of the Master Locksmiths Association. Once the lock is installed (we recommend you get this done by an accredited locksmith) you will need to let us know. We have a master key and will be able to undertake meter readings.

***  UPDATE  ***

The electricity meter box forms part of the home owner/occupiers private electrical equipment and as such not owned by SA Power Networks. We don't require the meter box be locked this is entirely at the home owners discretion.

Alternatively you can install a private lock, here's our fact sheet which provides more information about how you can secure your meter box if you wish.
We've had one electricity bill estimate, that was wildly inaccurate, so we are now on the hunt for a replacement lock that meets the SA Power Network requirements …