With a standard 3-Star, low flow shower head you are using 9L per minute in the shower, so for a 5-minute shower you would use 45L of water. It adds up pretty quick, even with a low-flow shower head.
Water in South Australia is expensive. If your household uses less than 328 litres per day, you be paying $2.32 / kL (source). As your daily use increases, so does your cost per litre, with it jumping up to $3.32 / kL for up to 1424 litres per day. According to SA water a normal family of 5, with a small garden, will use around 550L per day of water.
Bearing that in mind, a 5-minute shower will cost about 12 cents, plus the cost of heating the hot water. With five people showering most days, the water cost alone is about $18 per month (assuming you can keep it at 5-minutes per shower).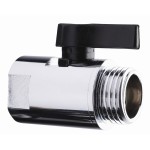 I don't know about you, but no matter how quick I am in the shower there always seems to be times that the water is running needlessly.
Adding an trickle valve to your shower head ($11.00 from Bunnings) can potentially cut your shower water usage down by half, if used efficiently by all family members. With the numbers that we have been talking about, the valve could pay for itself in less than two months, making it definitely a worthwhile investment to look into.