We got to Adelaide, Australia about three weeks ago now and have begun the job of house hunting. It is a rather daunting task to once again be looking for a new house (number 4).
One of the houses that I was looking at on the Realestate Australia web-site had me a bit confused by the tiny window in one of the bedrooms. The house was built in 2010, so I wanted to see if the window was even legal…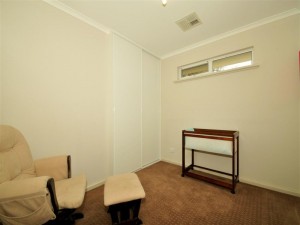 According to the Adelaide City Council building codes dealing with ventilation (.pdf link) the natural ventilation of the room has to be 7.5% of the total floor area since there is no ceiling fan in the room.
The bedroom that the window is in is 3.11 x 3.11 metres, or 9.67 square metres. With that in mind the opening in the window has to be 0.725 square meters. Since it looks like a sliding window that would mean that the total window would need to be about 1.45 square metres…
Does that window in the picture look like 1.45 square metres?
It doesn't look like a legal window to me …