Recently we purchased a white Ikea Besta Desk with the integrated cable tray under the back of the desk. The tray is great for organising cables and power boards.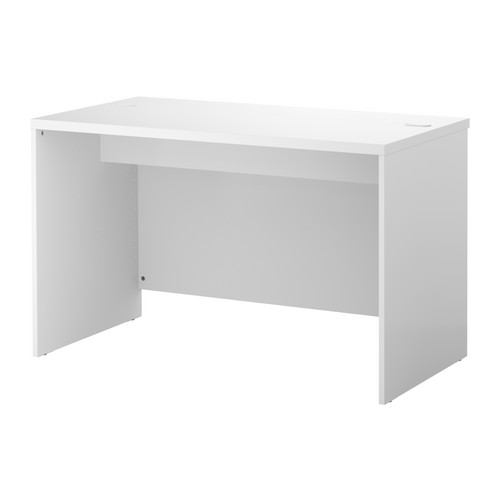 I like the way that they cables and everything is hidden under the desk, but I ran into a lot of problems finding a keyboard tray for the desk because of the cable management outlet on the back. The first tray that I tried was the Ikea Summera Pull-out keyboard shelf. It was a good first choice since it's only $15.00 in Australia, and it's from the same store I bought the desk from…
The problem I had with the Summera keyboard shelf was the long steel rods coming out the back of the back of the keyboard tray. The only way I could have made it work is to have drilled holes through the front wall of the cable tray.
After failing with the Ikea Summera keyboard I tried a Fellowes Underdesk Keyboard Drawer from Officeworks. This keyboard tray was significantly more expensive than the Ikea tray at $70, but I thought I would give it a try…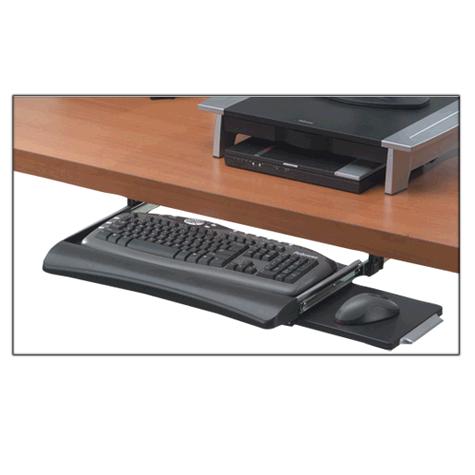 Unfortunately the arms on the sides of this one was also much too long. If I were to install this keyboard tray it would have extended out past the front of the desk about 10cm, or 4″. It was pretty ugly, and didn't fit my Logitech Wireless Mk550 Keyboard, which extended out past the back of the tray.
With only 34.8 cm between the front of the desk and the cable management tray I was pretty much stuck without option at this point for buying a tray. Since the desk is only 120cm wide I did really want a tray for my keyboard and mouse to free up some space on the desk. This pretty much left my only option as being a DIY solution …
Building a DIY Keyboard Tray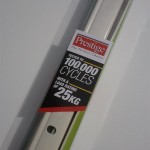 I headed over to Bunnings to pick up the hardware that I needed to build a keyboard tray. In the end all I had to pick up for two items:
White Melamine Shelf – 1200x300c16mm
Prestige 300mm/25kg Drawer Slide
The shelf cost about $12.50 and the drawer slide $7.00. So for less than $20 I was able to build myself a full width keyboard tray.
I cut the melamine shelf down to 1138mm (should have probably done it to 1135 as it was a bit tight, but still worked). After cutting it down I attached the tray part of the slides to the edges of the shelf.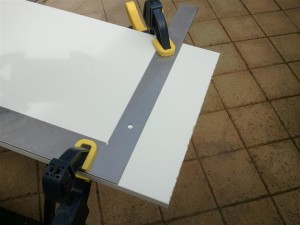 I then attached the drawer slides to the top holes in the side of the desk. Two of the holes lined up perfectly for the drawer slide, but I added two other screws (which were included with the drawer slides) to make sure it was secure. You could probably adjust this down one more hole if you wanted more clearance for your keyboard and mouse.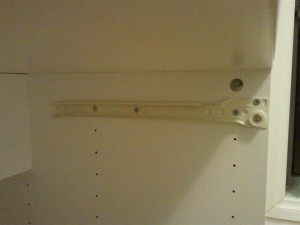 In the end I finished up with a keyboard tray almost the full width of the desk, with plenty of room for notepaper, the keyboard, and the mouse, all for under $20.00! A much better deal than the Fellows Keyboard Tray, and much more functional than the Ikea Summa keyboard shelf…