Our existing range hood is really quite useless. It is a recirculating range hood, with two-low power settings and a charcoal filter that doesn't seem to actually filter anything, even when the filter is new. A minor complaint is that it is the old "almond" colour that our appliances used to be in the kitchen, before we started having to replace them.
It's easy to understand why the builder put in a recirculating range hood. The oven is on an interior wall, which is actually only a half wall since our main living area has a cathedral ceiling. Venting the range hood out an exterior wall is going to be a challenge.
Despite the challenges we have decided to go ahead and vent a new kitchen range hood out the exterior wall. From our experience a recirculating range hood seems hardly worthwhile.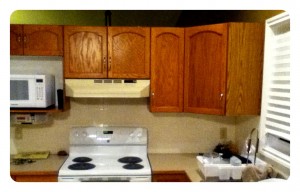 You can see some of the challenges that we need to overcome in the photo above:
Interior wall – no direct access to an outside wall
Half Wall / Cathedral Ceiling – no direct access to roof or attic
Cupboards only 2″ below top of wall – no room for overhead bulkheads
With all those challenges the only option is to go through the cupboards to the exterior wall. To do this we would loose the top 7″ or so of our cupboard storage space, which is pretty substantial. That said, I think that running the vent through the cupboards is probably the most viable option at this time…