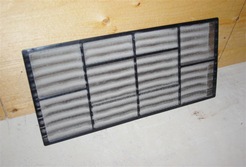 When not in use Air Conditioners are an easy way for hot or cold air to escape from the house. In Australia we were usually worried about the cold air getting out, here in Canada it's more of a worry of the cold air (-23C today) getting in.
Since I was up on the bench top checking out and closing the vents on the air conditioner I also had a look at the filter. Part of me wonders if that last owners even knew that it had a filter, given how dirty it was.
A dirty, clogged or blocked air filter on an air conditioner can be an energy hog and a safety risk. The air conditioner needs to work harder to draw air into the machine, which causes extra heat and an electricity drain.
To clean our filter, which you can see above, I'm going to hook up the vacuum cleaner and suck off the dry dust. If you are in a humid climate you may need to look at using bleach or vinegar to clean the filter if mould has started to form on the filter. Make sure to let it dry fully if you're going to do that, as you don't want to be drawing the fumes, or any liquid into the air conditioner.