I reckon that every man's garage needs a decent workbench. It's the hub of a man's world out there, whether it's being used on the latest project, propping up the man during a good chin wag, or holding the man's beer, a proper garage is simply not complete without a workbench.
Since I didn't have a workbench yet I was considering buying one from the hardware store or picking up a second hand on-line.
Buying a New Workbench
The cheapest new workbench that I could find was about $70 for an all wood basic workbench kit. The workbench came ready to assemble with the plans, hardware and timber that I would need to assemble it. The kit would probably suit my needs pretty well.
Buying a Used Workbench
Looking at used ones was a real mixed bag. There were not nearly as many listed as I would have liked, and most of those that were listed weren't cheap. A lot of them were tradesman grade benches coming out of workshops, so they were upwards of about $300. The best priced one that I could find that might suit my purpose was for about $50.
After searching for quite some time I finally gave up on finding a decent used workbench for my garage.
Building a New Workbench
After my fairly fruitless search on-line for a workbench I starting to think that maybe I could build one, so I started another search to find the best way to do that.
After a bit of searching I came across an article entitled "Building a Low-Cost Sturdy Work Bench from 2×4's and OSB". After reading that I figured that I could probably build it and end up with something pretty usable. I ended up with the workbench in the photo below, and all it took was about 2-hours of building and only $22.00 in materials!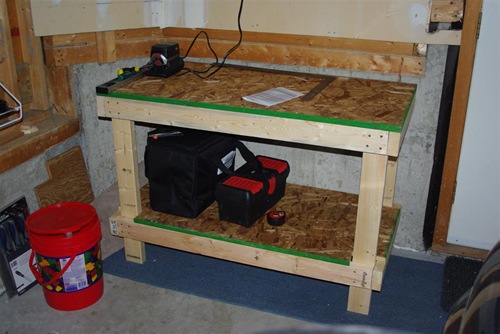 The workbench top and shelf were both off-cuts that I picked up for only $2.00 each from the hardware store. They were 24" x 48", so I based the rest the size of the workbench on that.
I then spent $10.00 on 5 x lengths of 2×4 and about $8.00 on a box of screws. Because I had the kids with me I reckon I spent nearly as long trying to buy the materials that I needed as I spent actually building it.
You can read the step by step instructions on how to build it here, but honestly, it's super easy to build, and you end up a very sturdy and cheap workbench in the end.