I've written before about wanting to build a kid's kitchen from an old entertainment system. I haven't gotten around to doing that, but I did make a small kitchen out of some Cardboard Boxes that my daughter Jessica loved…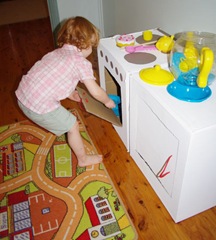 I can't remember where I got the boxes from, but they were probably from the local hardware store. I got two that were the same size and in pretty good condition.
I primed the boxes with a 3 in 1 primer / sealer / undercoat that I had left over from when I undercoated the house. The boxes were taped together using normal clear packing tape, which the paint didn't take to all that well. In retrospect I should have re-taped it using a cloth tape or even a masking tape.
After undercoating the boxes I put on two coats of flat white ceiling paint. You can use any paint that you have sitting around, but I had a lot of this left over, so it worked …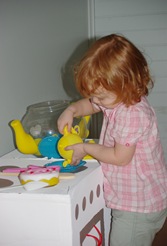 After the paint had dried I drew out the pattern that I wanted for the burners and over door on the first box, and the cupboard and sink that I wanted on the second cardboard box. I used a saucepan lid and a milk bottle cap to make the circles round.
Using the "donkey" colour of paint that we had left over from painting the living room, dining room, kitchen and office upstairs I painted in the patterns that I had drawn out before. I also cut a hole in the "cupboard box" for the sink and put in a plastic bowl.
For the doors to the oven and the cupboard I just cut it out with a knife and then used some old string that I had lying around for the handles. To accent the door to the oven a bit more I painted around it with the same donkey colour of paint.
All up this little kitchen, that Jessica loved to play with, cost nothing as the boxes were free and the paint was all left over. It did take me a few hours to paint, but it was well worth the effort.