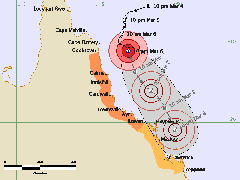 Cyclone Hamish has now been upgraded to a category 3 cyclone and is still tracking down the coast of Queensland. At the moment they are predicting that it will stay off the coast, but since cyclones are rather unpredictable we will have to prepare for the worst. It is set to be off the coast of Townsville about this time tomorrow.
An interesting way to follow and track Tropical Cyclone Hamish is using a service called Twitter.
Twitter is a micro-blogging service that allows users to post short, 140 character posts to it's service. One of the features that is has is to set topics to the short posts, which people up and down the Queensland Coast are starting to do with Tropical Cyclone Hamish.
You can follow people's posts about cyclone Hamish on Twitter here.
If you are experiencing anything to do with the cyclone and want to post about it, just sign up on Twitter and include "#hamish" in your post to add to the topic.
Since it's after mid-night right now in Queensland you can expect things to be quiet on that topic over night, but it will no doubt pick up again in the morning.