I was really hoping that Tropical Cyclone Ellie was going to be our only tropical cyclone this year. I know that was unrealistic to hope for, but I was hoping …
Last night Tropical Cyclone Hamish formed off the North Queensland Coast about 200km North of Cairns. If you have a look at the tracking map below, you will see that Cyclone Hamish is expected to be a category 3 cyclone by tonight, and is expected to track down the coast of Queensland over the weekend.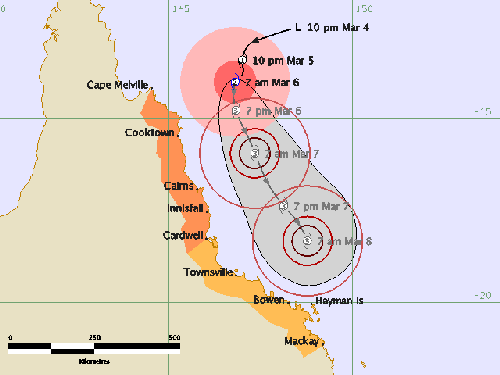 Tropical Cylcone Hamish is expected to be off the coast of Townsville by Sunday, but at the moment they are not expecting it to make landfall.
A category 3 cyclone can be a scary cyclone. Cyclone Larry, which brought massive destruction to Innisfail in 2006, was a Category 4 cyclone, which Hamish will be not too far off of.
The best that we can hope for is that Hamish will continue to track down the coast, and then turn out to sea, slowly loose strength and die. There is currently a tropical cyclone warning issued for between Cape Melville and Cardwell, and a cyclone watch between Cardwell and Mackay, which includes us here in Townsville.
About this time last year we had some wild weather and I was asked by some passers by if I wanted a cyclone, to which I answer a definite "NO!". Upon hearing that they called me a "pansy" for not wanting a cyclone to hit.
Well, if that's the case, then today I am again a pansy.
Tropical Cyclone Hamish, please stay off the coast …
You can track the latest updates on Tropical Cyclone Hamish on the Australia Bureau of Meteorology web-site here.