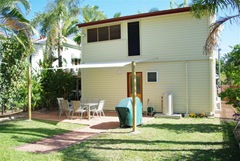 The Shade Cloth cover we picked up for at Bunnings for only $40! It is a 4 metre x 4 metre Coolaroo Shade Cloth Sail that comes with a 15-year warranty and offers 90% UV protection. It was discounted because it's a non-standard colour, even though it matches our paint colour scheme almost perfectly.
First I sunk 150mm diameter posts 60cm into the ground and then filled it with cement for the outer posts. At the base of the posts I made sure that the concrete sloped down, so the water would run away and not pool against the posts. I then put I-bolts through the posts for my anchor points.
Against the side of the house I found where the timber studs were and simply screwed the stainless steel eye plates through the siding and into the studs.
The shade cloth sail has stainless steal rings at the four corners, so once my anchor points were down I used turnbuckles to attache the shade cloth sail to the anchor points.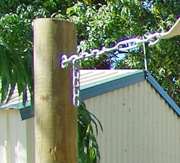 After attaching the shade cloth sail to the four anchor points I used the turnbuckles to tension everything so that it ended up with a nice even tension over the surface of the shade cloth sail.
All up the cover only cost about $240 including the posts, concrete, shade cloth and all the brackets.
Note: One of my posts ended up farther away than I had planned, so I used some chain link to extend the turnbuckle to the anchor point on the post.