It's time to batten down the hatches so to speak as Tropical Cyclone Ellie is due to hit land about 120km North of Townsville on Monday (tomorrow) at around noon. Here is the current tracking map from the Australian Government Bureau of Meteorology (link):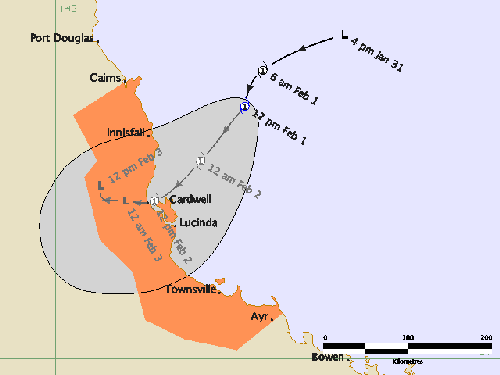 We will be keeping a close eye on this cyclone and this afternoon I'll be taking down the shade cloth cover from our outdoor entertainment area. If the cyclone starts to build in strength, or move south at all, I'll also be taking in the chairs, table and possibly the barbeque into the garage.
The last cyclone to hit near Townsville was Tropical Cyclone Larry in 1996 while our house was being lifted. That cyclone destroyed or damaged 1 of 3 houses in Innisfail, which you can see on the map above. This time we should see an increase in rain and strong winds in Townsville, but if it continues on the current path we should be fairly safe here.
Dealing with cyclones is one of the challenges we get to deal with living in the tropics. My wife's been talking about writing an article about how challenging this climate can be at times (this week we had to throw out a backpack and at least one pair of shoes because of mould). Not sure if she will get around to it, but if so I'll make sure to post it on here …