I can just hear the collective groan of "Well, Duh!" after reading that title…
It's not that we didn't expect a bit more cleaning with a bigger house, it's just that I don't think we really understood how much more cleaning it would mean.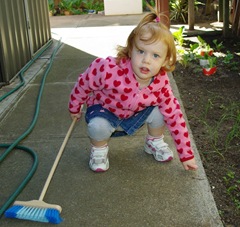 Two more bathrooms, four new bedrooms, a staircase, a hallway and a garage amounts to more than doubling the amount of time it takes to get the house clean.
To help ease the burden we have decided to put the kids to work. Caleb's jobs are sweeping the garage and cleaning the front garden and driveway. Jessica's job is usually family moral …