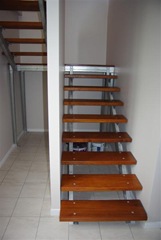 I had a comment from a friend that in the last photo that I took of the staircase you couldn't actually tell that it was an open tread design for the stairs. They were a bit surprised about what it looked like when they saw it in person.
So here is a photo I just took of the staircase from below. You can much more easily see how the open tread design looks.
The area under the stairs will make for some great storage, but because of the open treads we will have to make sure to keep them nice and tidy.
One thing about the rich colour of the stairs is that they make for some great photo opportunities with the kids …