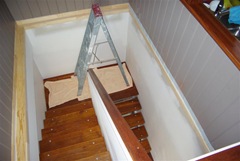 The stairs are finished and we are able to start painting.
They have turned our really well. The dark Kwila timber stair treads actually manage to flow quite well with the pine floorboards up the top. I was actually quite surprised that they turned out almost the same colour as the Western Red Cedar louvers above the stairwell, and the timber shelf separating the kitchen from the new stairwell (you can see it in the top right of the photo).
We are considering paying someone to paint the stairwell for us. Our builder recommended someone to us and they were out today to have a look at it. We should get the quote from them tomorrow and we will see what the damage could be. As soon as the stairwell is painted then we can make the move downstairs.
We are very eager to finally be living down there, we are only about 2-years behind schedule …