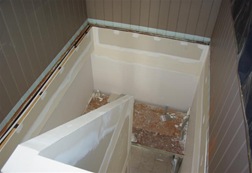 On the third day of our stairway construction the landing was put on in the middle of the staircase and the plasterer started on the plastering.
Because the area that we are putting the staircase isn't very big I was tempted to put in winders instead of a landing. The landing takes up about the same amount of space as 6 treads on a 180 degree turn like what we have (3 tread on a 90 degree turn), so it would have save us a lot of space for our staircase. There are disadvantages to winders in your staircase though, including:
Increased cost
Much more complicated design
One end of the winder is very narrow and it is easy to slip on (not good for kids)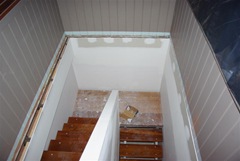 For us the decision mostly came down to cost. There would not have been too much advantage in using a winder, so we went with the more basic design of a hardwood landing. The space was pretty much perfect for the standard design anyway.
The treads were installed on the fourth day. It's exciting to see it coming together finally. The plasterer was also here sanding and plastering the walls more.
They still need to put on the trim and handrail, and finish off the polishing of the landing. Unfortunately the plastered didn't use any drop sheets on the landing, so the builders are not too happy about that, and they need to re-sand and polish the landing. That'll slow them down a bit more, which they weren't counting on.