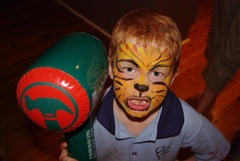 Sunday was Fathers Day here in Australia and I was lucky enough to have two exciting days / events to celebrate being a dad.
Thursday night Caleb and I headed out to a free Fathers Day event put on by Bunnings. They had four craft tables set-up for Caleb to build stuff and make some cards. He built and painted a timber CD Rack for me for Fathers Day and did a special card for me. You can see the CD Rack in the photo below.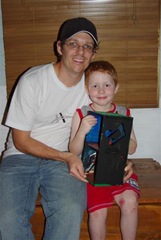 In addition to the four craft tables they also had face painting, as you can see above. This was actually Caleb's first time ever getting his face painted, and they did a fantastic job on it don't you reckon?
We got to pet a snake, a lizard and a crocodile that were brought in from the Billabong Sanctuary. Caleb was quite brave and went up to pet each of the animals.
Bunnings also put on a free sausage sizzle for everyone there. We both love our sausages, so that was a great dinner for us, maybe not the healthiest, but certainly tasty.
Today we headed out to Reef HQ here in Townsville to have a look at the aquarium. It is a very impressive display and we were lucky enough to be there during the feeding of the predator tank. And of course we got to see Nemo (the clown fist) and Dori (Paracanthurus hepatus) along with hundreds of other fish and sea animals.
After that we watched the movie Ratatouille
at home as a family and finished with a family dinner.
I reckon I've had a pretty good Fathers Day this year …