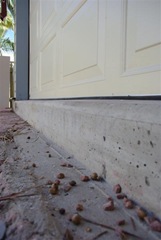 Up until now our garage has been virtually inaccessible because of the original old driveway. The original driveway is about 20cm (8 inches) below the garage entrance, which is rather difficult to navigate.
I had already tried to build a ramp out of timber, but that didn't work very well as it had a very steep angle and moved around a lot. That left us with three options to get into our garage from our driveway:
Build a permanent concrete ramp from the existing driveway into the garage.
Replace the entire driveway with a new driveway.
Replace a portion of the driveway.
After looking at those three options we have decided to replace a portion of the driveway.
The portion that we have decided to replace is a large portion of the original driveway. We will be replacing all of the driveway inside of our property line. We probably would have looked at replacing the entire driveway with a new one, but that would have slowed us down a lot.
If we were to replace the driveway from the curb to the front of our property line it would have cost an extra $3000 or so. We would have also had to submitted plans to council, which would have most likely taken months to be approved.
In our area of West End in Townsville there has been significant road works this year. Most of the road works have been focused on improving the drainage in the area, and has included replacing the gutters. Our builder reckons that our road will have the gutters replaced in the next few years.
When the council replaces the gutters on the street they usually also replace the first metre or so of any driveways affected. When that happens we can always revisit the idea of replacing that final section that will be left of the original driveway.