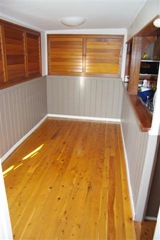 We have emptied out our office area in anticipation of the stairs going in. Glenn was just here checking it out and he said they will be ready to start cutting out the floor tomorrow morning at 7:00 am. They will be cutting out the floor in the area and dropping it down below.
After the mess that we experienced when they had to cut out the bathroom floor we aren't taking any chances this time around. I've already put up a plastic sheet over the area separating the stair area from the kitchen, and before we leave tomorrow morning I'll be sheeting up the entrance between the dining room and stair area.
We have gone with an open tread design on the stairs, as the cost is about half that of an enclosed staircase.
The landing and stringers were delivered this morning and I'm just waiting for the treads to be delivered so that I can get started vanishing them. Hopefully starting next week we will actually be able to live upstairs and downstairs in our house!
It will feel pretty amazing to finally get to that point.