All Queenslanders are elevated and built on stumps. Depending on how high it is and on the construction methods used, sometimes the Queenslander homes can rock or sway, much like a boat does in a small swell.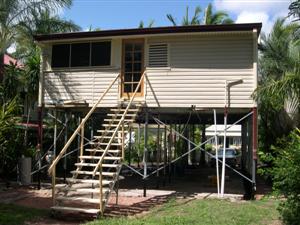 We noticed this sway quite a bit right after getting our house lifted. If our son ran around the house, or if I took a wide stance and rocked back and forth, we could get it going so the rocking was noticeable in a glass of water. The sway was the worst when we first moved in after the house was lifted, but slowly we got used to it. My wife, who was pregnant at the time, wasn't too affected by it, which says a lot.
If you have a look at the first photo you can see some of the metal cross braces that were welded between the stumps to help minimize the sway. Even with those cross braces though, we still experienced the sway. For us though the cross bracing was temporary, until the house was enclosed, so permanent cross bracing may be more effective at stopping the sway of the house.
The sway in the house didn't finally totally go away until after we enclosed under the house. There are two trains of thought that I have experienced when it comes to bracing under the house when enclosing. One is to use bracing ply, which you can see in the photo on the right, and another is to leave some of the metal cross braces in and build around them. Most builders from what I can tell recommend a combination of the two, although we did all bracing ply as that is what our architect drew up with the plans.