When installing our new double kitchen sink we discovered that the countertop was synthetic stone. For some reason I had just assumed that it was a laminate countertop, but it turns out that I was wrong…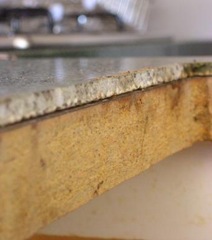 The synthetic stone bench top has very similar qualities to solid stone bench tops, but at a significantly lower price. The lower price is due to the fact that it doesn't need to come from one large hunk of stone, but rather it is manufactured to suit the install requirements.
It is very hard wearing and easy to clean. Despite our best (accidental) efforts we have yet to chip or scratch it, although we have lost a few glasses and plates to the hardness of the synthetic stone.
If you want the look and feel of a granite or marble countertop, but want to save some money, then have a look at a synthetic stone option. It should still probably be professionally installed, but it will look great, and save you a bit of cash.