So what is a "Green Roof" to begin with?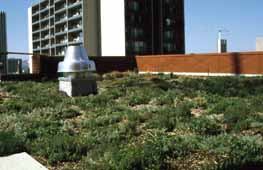 Wikipedia defines a green roof as "a roof of a building which is partially or completely covered with plants. It may be a tended roof garden or a more self-maintaining ecology like a living wall or breathing wall. An earth structure often has such a roof, as plants simply grow naturally over it, making a hill that is from some angles indistinguishable from a natural one."
Green Roofs claim to deliver cost savings as they provide greater material lifespan (up to twice as long) and savings on heating and cooling costs because of the insulation that it provides. Green Roofs also claim to provide sound insulating benefits. (for a full list of personal and public benefits can be read at About Green Roofs)
Green roofs from what I have read today seem to be most common in Europe, are slowly making headway in North America, and green roofs are looking to be a viable option here in Australia. Green roofs are not limited by the climate that you are in, as I initially thought, but they can be built in pretty much any climate using native plant life. This means that even here in Queensland and Townsville there is the possibility of building using a green roof. There is a good article about green roofs in Australia at On Line Opinion – A roofing answer to climate change.
Because of the studies showing how green roofs reduce the ambient temperature in cities they can potentially be a real option to assisting in reducing global warming. The city of Toronto for example estimates that if 8% of their buildings had green roofs then the ambient temperature in the city could drop by up to 2C.
Things are not all good for green roofs unfortunately. If you live in Vancouver you will probably not be
building a green roof anytime soon. Although initially very excited
about the benefits claimed by Green Roofs, developers in Vancouver are
currently putting most of those developments on hold due to leaky roofs
and insurance companies unwilling to insure the green roof buildings. The city had initially made it a requirement for the Olympic village to built with green roofs, but that requirement has since been removed because of these problems.
(you can read the full article at Vanouver Sun – Insurers put the brakes on green roofs)
So I don't think that the roof on my house will be a green roof anytime soon, as we plan in painting on insulation in the next few months. That said, down the track I wonder what will be happening in this area?
What do you think? Will your next house, or next roof on your current house, be a green roof? Let us know…
Technorati Tags: green-roof, green roof