We had to remove some more tree stumps from our yard so that we could move the fence into the proper boundary position. The previous owners had moved the fence into the neighbours hard and planted a stack of trees on the property line. Now our neighbours are putting in a new car port, so we are needing to move the fence line back and get rid of the trees.
With the neighbours we cut down the trees a few months back, but now we had to get rid of the old tree stumps. We had considered hiring out a bobcat to rip them up, but with the root system on these trees that could have caused a bit too much damage to our driveway and possible the nice new slab under our house. So we decided that the best thing for us to do would be to get in a stump grinder to grind down the tree stumps.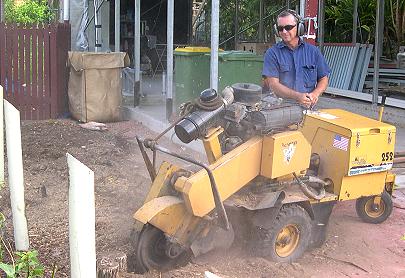 We had dealt with Ivan from Townsville Stump Grinding before when grinding down the stumps in our backyard and were very happy with his work, so we decided to use him again to get rid of these new stumps.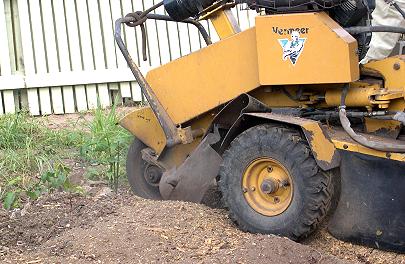 The machine that they use is pretty impressive. This one is actually Ivan's backup machine, but it sure did a number on the stumps. Check out this video of stump grinding to see the machine in action.
Unfortunately he hit a steel post that was embedded in the tree stump that I didn't know about, so wasn't able to remove. It took one of the teeth of the machine, which is pretty impressive considering how heavy duty the stump grinding machine is.
We were again very impressed with Ivan from Townsville Stump Grinding. He is one of the few contractors we have dealt with that has shown up on time, every time. His prices are very reasonable and he does a good job.
You can contact Ivan at the following details. Just tell him that Bill Hutchison sent you…
Townsville Stump Grinding
"Tree Lopping, Stump Removal, Troublesome Roots"
Mobile: 0407 960 392
Phone: 07 4775 1617