Tonight I had to figure out how to replace a water damaged kitchen cabinet back panel. Last week we had a fizzy drink break in the kitchen cabinet and we didn't find it until the next morning, by which time the MDF-Melamine back panel had soaked up a lot of the liquid and become quite water logged.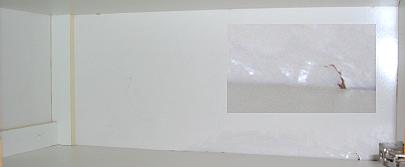 We were not able to figure out how to dry the MDF-Melamine (I'm convinced it's not possible) so I set out to replace the back water damaged panel.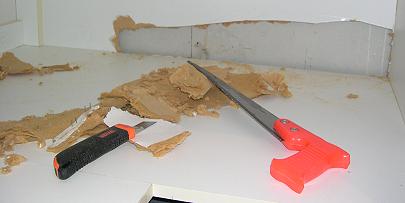 I started by removing the water damaged portion of the back panel. Originally I had planned to remove the entire back panel, but the MDF-Melamine what wasn't damaged proved to be quite hard to cut away.
Initially I was trying to cut away the MDF-Melamine with a keyhole saw, but the waterproof wall panel was right behind the back panel of the kitchen cabinet, so I ended up cutting the water damaged portion out with a box cutter. It took a while, but eventually I got it all out.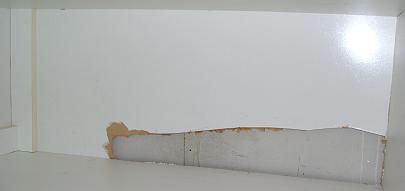 After I had all the damaged area cut out I gave it a spray with bleach and a good wipe over. This was to make sure that no mold started to grow where it had been wet.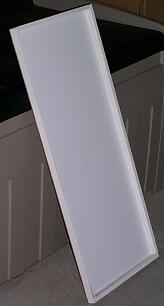 Because I didn't have access to the rear of the kitchen cabinet I had to attach the new back panel only on the inside.
I accomplished this by purchasing a piece of 3mm White MDF-Melamine and 20mm x 12mm Square Timber Moulding. I painted the timber moulding white and built a frame out of it to attach the MDF-Melamine to. I then screwed the timber frame to the front of the new back panel so that I could screw it into the existing selves and sides of the kitchen cabinet.
When I went to slide the new back panel into the kitchen cabinet it was too big, or course, but I was able to shave a bit of the it off with the box-cutters and then, with a bit of encouragement, it slid right in. I had pre-drilled holes in the new frame and put the screws part way in, so I then proceeded to screw the new back panel into the existing cabinet.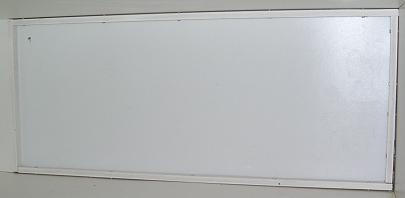 The fit isn't quite as snug as I would have liked (you can see some gaps in the above photo) but I should be able to cover up those small gaps with some white no more gaps, which I have somehow run out of at the moment.
If I had to do it again I would probably attach the MDF-Melamine to the timber frame with staples instead of screws, but for tonights project I didn't have my staple gun as a mate was using it to fly-screen his house.