Ever since we have moved into our house we have only been able to have baths that are about 10cm / 3″ deep. This is because if we fill up our bath more than that it leaks out the spa jets.
I have been resistant to fixing it because it means having to pull off the iron that is on the outside of the bath, then having to find the leak and finally having the actually seal it. Then after sealing it I will need to put the iron back on and probably re-paint the iron (I did this originally in the article Painted – Bathroom).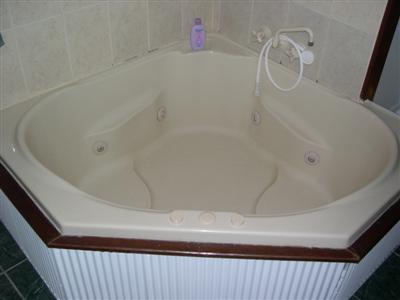 Well we have finally found someone to build in under the house (sort of, it's a long story). Since they have started that I will need to fix the leaking spa bath sooner than later because we don't want the spa bath leaking after we have put in the sheeting on the ceiling under the house.
Tamara found a fairly detailed article about how to repair the leaks. Here is a link to it:
That does bring up another problem though, what happens if it starts to leak again? How will I know until it has actually destroyed the ceiling under it?
Given the option I would just get rid of the spa bath all together and redo the entire upstairs bathroom, but I can't see that happening any time soon…